Northwest Workforce Council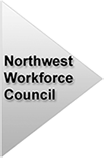 The Council's oversight of the region's workforce development system ensures an effective array of market-responsive services, with resource investment in targeted industries. Innovative solutions are drawn from vibrant partnerships and through strategic resource investment of training and the leveraging of other public/private funds.
Contact the Northwest Workforce Council, or visit their website today.